Description of Bug Experienced:
Project image cooldown not working as advertised.
Steps to reproduce the Bug:
Use -project_image [name] in the chat box to someone on another server.
Wait out the cooldown, after being told it's available again.
Send -project_image as a Tell to someone on the same server.
Expected Result:
The recipient receives the message.
Actual Result:
The recipient did not receive the message, and another cooldown was started despite the failure.
Screenshot(s)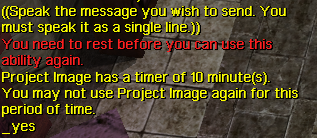 _yes was the message sent. The system seemed to recognise a message was sent, but a Tell with the intended recipient confirmed they did NOT receive it.