'I do want for much. I'm a bit of a collector.'
"A collector. Of information or just trinkets in general?"
'Of people. The looks in their eyes and their motivations. Their ambitions and their false hopes. The 'information' largely ends up superfluous to the soul.'
John Salamander -
"Mmmm-hm. I said to her: The Freedom of Will upon this Game of Life is something generations and civilizations have sacrificed themselves in the pursuit of. Some of which may even be your ancestors. But you, you only have your life to lose..."
"... Freedom and Life. You have learned many things, and yet you are ultimately human. If I were to guess, I'd think you were undecided- but you were about to say otherwise."
Azkar Khan -
"We come from a place in what you call the Northdark, named the Labyrinth. It is not that we are drawn to them. It is that we come from them. When I found the exit, I came to realize that the world is a place of many mazes. And that some of them hide within ourselves..."
"... Perhaps in time, you will come to Know yourself. For now, there is a fork in the path. And we each turn a different corner."
Pontiff -
"Do you know why we reject hope? It is hollow, like a dead tree. I do not hope for things. I make them happen."
'Is it wrong to... enjoy hurting people?'
"Depends on whom we hurt and why. But... no. Pain is the body reacting to loss."
Lupercallia Xemitra -
"You will have to learn to accept yourself some way or another. I've made peace with my nature and the dark passenger that is my birthright. Though, admittedly, it took a long time to do so. You and I are always going to be a step apart from most other mortals. It can be a lonely realization."
Amalie Arcath -
"Do you -want- to be more humane? You needn't care about how they feel, but humanity means you understand it..."
"... No expectations. No agendas. Just enjoy life, or try to."
Lavok Xun'viir -
"You can tell much about a person by what they choose to eat."
'What do you think about those drow who only eat mushrooms and junk?'
"I think they must be -poor-. Which is almost as large a sin as being boring."
Zelos Xun'viir -
"I was. And I was broken. To the point that I suddenly stopped caring. It /was/ life. It /was/ the expectation. The sands of an hourglass -- they mend as much as they do torture. Numbness takes root, eventually..."
"... Never doubt the power of a coinflip. Of the unexpected. The sporewind blows ceaselessly. To pray to it and hope it saves you is foolish. But to think it outright impossible is equally idiotic, hrm?"
Palvetaja Amberheart -
"Oow! No, that's not how it works... I'm only a hin, not some sort of super masochistic being that rejuvenates the more you kick it... I wish I was. But I'm not..."
Ikarus -
"What's I lookin' like ta youz, - some scrawny magicker, ta be spendin' 'is life behind a desk, readin' books? Naw! A shaman o' Vaprak, youz well knowin' I am - a shaman o' war. An' far wrinkled I am already! I ain't spendin' da last o' my years squintin' at lettas. Betta fings ta be doin' den dat..."
"... By livin', warrior. Many chiefs I'z guided, many lands I'z walked. Many truths I'z listened to from dem wiser den I, an' learned well dat even da smartest dere is can't be knowin' everyfin'. But it were da guidance o' da Great Destroyer dat carved my channel. I may 'ave sung da final notes, but Vaprak started da choir."
Imri Xel'vraxa -
"Something about murder speaks to me and nothing appeals to me like death threats. I fear for my life. Why do I think that sounds exciting? Now that I feel safer, it might take that away."
Aunrae Hlairyn -
"Your praise means much. Sometimes great creations come from unlikely circumstances. But isn't there a better way in which chaos works? I suspect if the Dark Prince has been aware of this, he is probably quite amused."
Davei "Synk" Glumgum -
"First one calls it, 'Shade Synk's Studies: Hippo Thesis on Shade Chair Dynamics (Big Thinking Required)'. Mhmm. All true, based on what we see. Way they love chairs, fight for chairs, steal chairs, kill for chairs. Is big fascinating."
Nathaniel Brightburst -
"You might break me... But I'm going to make you work for it. And I'm going to be INSUFFERABLE while you do it..."
"... Your inquiry about my interests and loved ones seems like something that would be against my interests to explain. She'll be healed, one way or another. My other offer is still on the table. The sublime experience of my foot, lodged -snugly- up your arse."
Gabriel Vijan -
"I feel like this is becoming a bit of a mundane transcation, dove. We were hoping to rob some wealthy half-pint halfling, to be honest."
'I did not arrive on this island with much more than a harp on my back.'
"... You got that harp?"
Tarthi Weglyn -
"Afraid you've picked a terrible location if you're looking for innocent people. Arelith draws adventurers. And mercenaries are just... well, the only difference you'll find between them and girls in a brothel is that they're armed. This blood, though. The blood that's... on the hands... Why do you take umbrage with it?"
"... Isn't that a, well, miserable way to live? Finding existence vexing? There's so many people here that are bitter about life. Of course it's cruel. That doesn't mean you have to be miserable."
Nicodemus San-Lanargaith -
"Do you prepare fish any? Have some... Might not be prepared to yer 'palette'... But it does help focus on studies..."
"... Though with all the travel I do I tend to bake' 'em afore hand and wrap 'em to preserve 'em. You learn on the road that well cooked meal does wonders for the body and the spirit."
Arthor' -
"I accept them as my alpha, because I recognize that SOMEONE needs to manage, but I don't want to do it. If they puts me BELOW someone else, though, we may be having words..."
"... I may despise politics, but I recognize how they manage to get things done. At least until chaos manages to unmake that order, as things should be."
Tamaris -
"Nothing happened. And a lot of things happened. The things that happened involved me killing somebody, and being told how evil I am for doing it under certain circumstances. And the things that did not happen-- is everything in between. Of course it bothers me. There's more to life than this."
Denny Walvish -
"He kept it underground but I did not mind his dodgy behavior, I was a Banite, after all. It feeds on insecurity. Keeps you trapped in self-loathing so you keep going back for reassurance and freedom from it. Like an abusive partner. The High Watcher showed me what strength and kindness is. I have no need for what Bane is peddling anymore..."
"... I was afraid of my own shadow and never had the guts to do anything beyond petty thievery. No, I was not pious. I appreciated it from a theological standpoint- it made sense, it was true to me."
Uziel -
"Without place of refuge in Andunor or Cordor have you found it in this dark mirror devoid of life, or do you simply wander as I?"
'A little bit of both, I suppose. It's a very cracked mirror.'
"All mirrors are when the one looking in is broken."
Vodalus -
"You talk to too many wizards. They don't know what they're talking about. You can't inquire into the nature of an angel. Or- you could. But you wouldn't get an answer. Nobody is one. Definitely not the two of us..."
"... Are you listening to me?! What did I say about inquiries and nature? I know that the sky isn't made out of cowhide, but I don't know what it's really made out of. See what I mean?"
Yrmalag Caernorn -
"It's like I told you. You're bored. Bored people do strange things. What you want is to be amused. And as long as you're amused, damn the rest of it..."
"... You don't like food. You like killing and hurting and calling it art. It's just a pretension of destruction. Nobody slaughters a rothe because they want to watch the life go out from its eyes. They kill it because it's useful."
Alan -
"It's the only reason they mind me. It's a wonder, that. I couldn't say... Alright, I've an answer."
'Did the sky give you one?'
"No, the wind. Anyway. It's because I don't have anything else to do."
'I think you're just bored.'
"Yep. Can't say I'm not."
Durzali -
"I got angry. I had an urge to do it. It felt right. It was right. It was bliss... I was upset after I did it- I didn't really mean to. I tried for a long time to get into the grooves there. Didn't work out. I couldn't do... -that-. So I left..."
"... Easy in the moment, hard to think about after. I've come to realize though that it was right. No, I don't really regret it."
Nezumi Ishida -
"Yeah, yeah, yeah. Anyway, I feel most hunger can be looked at like food. You have a need, and you eat, and you feel better... but you also know that tomorrow? You'll just be hungry again. Doesn't matter how much you eat today. Tomorrow will always come..."
"... I'm speaking more from a religious point of view. Listen to your hunger. Learn how to satisfy it. Take what you need, but no more than that. Don't be a greedy guts. Bring laughter to the world. Amen!"
Saslae Xun'viir -
"Most people know the history of old events-- but... They don't know that they were a drug-fiend who would twitch and start freaking out if he didn't get his fix..."
"... No such thing. Everyone has a vice, even if it's delusions of purity and superiority because of it... My mother's mate was an arcanist-- he would control the slaves' minds and make them dance... I always wanted that power."
Burin -
"For beyond such passages of mud and hazy caverns, one may find the rift twixt 'ere and naught. Then so forth comes the dawn, and the maw that devours it. From the maw opens a shape, the gargantuan slug from that which cannot be understood. Or this cave, it's your choice..."
"... You're wrong. It does matter. These are you feelings, which have influenced your decisions, lead you to new places, and to this moment. What are you running from?"
Conni Ano'coda -
"It was the first time I felt like I made some progress, I guess. I felt like a hero..."
"... A hero to me... Is what my uncle was for me... He just showed me, that... There was a better way. And he didn't do it by yelling or with a blade or anything like that. Look, I can't explain things well, but you don't have to die to be a hero. You just gotta be there for people to see that there's a better way."
Iritryn Lindir -
"I do not refer to happiness in the sense of experiencing joy in every passing moment. I also experience grief, sadness, loss, and more... But regardless of the emotive self's current state, the very core of my being is... content... At peace with the turbulence of the emotive. That is what I refer to as happiness. And no, it is not elusive. It is eternal, and real."
Aellowyn -
"This is my collection. I honestly need more friends, or lovers to collect from. I suppose you wouldn't part with a bit of yourself?"
"... A pity. I like to collect parts. Of those that matter. I didn't like my first husband, but it mattered."
Sojourner -
"I was long thought to be some hedge mage that wandered, before I started to delve into planar travel. At some point, 'Sojourner' stuck and was irreplacable by any other name. The old became meaningless..."
"... I've found many interesting things, and places. Hidden corners, places of power, places of the exotic, and history. Other worlds entirely of fire or wind. The Celestial sky, odd as that place feels. It's been... lengthy. Such that I've rarely dwelled on what -was- before it all."
Wisp -
"I am happiest when I find another who can accept all of who I am. Dark and light. All of my lovers know that one day I might vanish, and care for me regardless..."
"... I am not, and will likely never be 'good'. Kind, generous, patient. But never 'good', as it's understood."
Zith d'Astunin -
"Then sure, let's play darts."
'Great! Our dart board's standing right there. Twenty points if you nail her between the eyes.'
"Oh, the hin?"
Lilian Williams -
"It's easy to lose oneself in it, sometimes. We've spoken of self-acceptance, but can you really accept something if you don't know what it is? It's something I wonder myself. Constantly emulating things. At what point are you not just... that thing?"
"... You don't haunt me. You /know/ me. Sometimes more than I think I even..."
Quirina Chaedris -
"... Ask me again."
-
The Unsung
(in no particular order)
:
Marley Goodman
Ghark Siltface
Mosova
Loewynn
Chaesendra Desmantes
Kyegze
Jakatta Zen'alt
Karathas
Oturo
Kaos
Pinlyn
DM Starfish (loved you ever since Burin's little event in Umbrick)
Ilphaeryl Xun'viir
Tarkus Pyreheart
Ezri Tinfoot
The Arcanum folks
Cutlass
Gregor Caeruleus
Roxxi
Chione Akil
Zelrunia Emberstride
Maddie Ayloud
Myzzrin Brightburst
Dellie Starswallow
The Black Host (Gorathon, Ceska, Erika)
The Void Cult/Church of All Shadow (Dusk, Cookie, Penthos)
The people that entertained them in the underdark (really too many to list)
-
The Dis Tourney -
The result of the underdark safari -
The cooking contest -
The start of a meme -
The sewer bombing -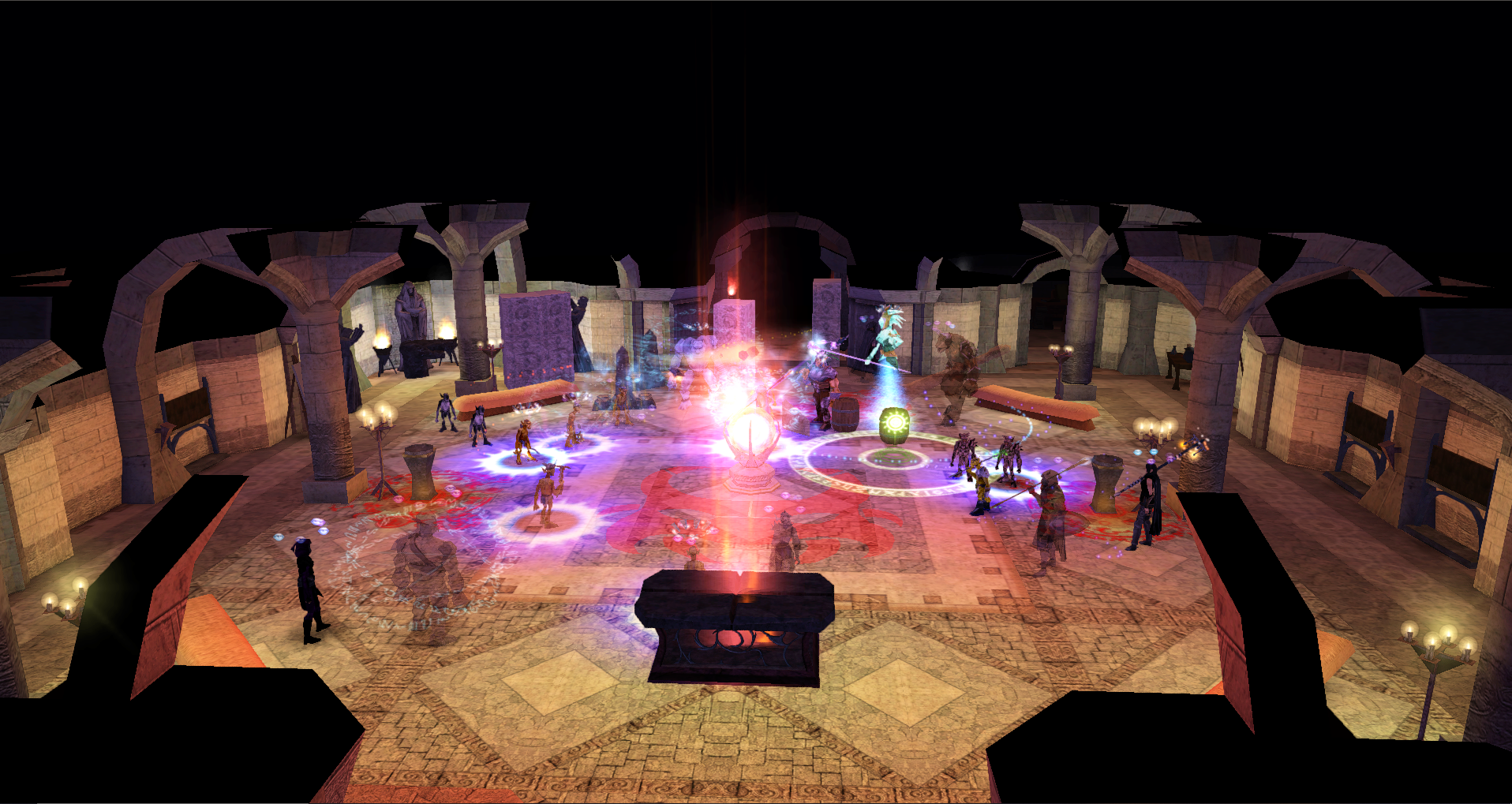 Weapons testing -
An interesting surgery -
A friend's departure -
-
My most ambitious character, in concept and now scope, has come a long way. From slave child, to petty criminal, to bloodsporting and drug rings, to enforcer, to what they are now. I always view my characters as sort of a blank tinted canvas that others might paint on. They were never meant to be totally and irredeemably fiend-like, always in this shade of sympathetic grey. That people who took the time to see it would. That when you pull a string, part of them moves and someone might understand why.
It's difficult to not get dragged down into the muck on Arelith when you play for extended periods. More difficult still to not take a moment to step back, take a look around you and see why people get so attached to this little sandbox. To remind yourself why you are still playing, why we are here, ultimately. It's always strange to look back and reflect over a character's lifespan, almost as if to tell yourself, "Yeah, I guess a lot of cool stuff ~did happen. Stuff that people talked about for weeks."
This is kind of a long-winded post, and I'm sorry for that. I put it together over the course of a few days when a fey mood took me. The Herald's mask is buried, yet the person behind it lives on. So here's to the outcasts, to which there is camaraderie. The unsung, and the 'enemies'. Passing faces, influences. Those who have shared their writing and characterization with me. Part kudos. Part IC stories.